Talented junior sous-chef convinced by ProBlender
Born in Tuggen, Switzerland, Ryan Oppliger is a young cooking prodigy. After a double apprenticeship as a cook and pastry chef/confectioner, Ryan works now in the 2 Michelin star and 16 Gault-Millau points restaurant Magdalena in Rickenbach. Last year he proved his talent by winning the "Youth Kitchen" competition by Swiss Meat.
As for all great cooks, the side sauces are key points for Ryan. "The Novis ProBlender is not just another blender. It's really powerful which allows you to blend food quickly into an extremely creamy texture. The fact that it has several sizes of containers is also a big plus that allows me to reproduce the same recipe in different quantities and still get the same creamy result," explains Ryan.
"The ProBlender is the perfect blender for creamy, consistent results."
Ryan Oppliger, junior sous-chef in Magdalena Restaurant
Ryan's recipe: Baby lettuce with basil pesto
Recipe for 4 people

Ingredients:

2 baby lettuce
20g hazelnuts, roasted
1 Belper tuber
1 lemon
10g Balsamic vinegar Bianco
Rapeseed oil
Fleur de Sel
Parmesan cheese
100g basil, plucked
2pcs garlic
30g pine nuts
2dl olive oil
50g parmesan, grated
2 pinches fleur de sel
Pepper
Preparation:
For the pesto, lightly roast the pine nuts in a frying pan, leave to cool and place in the Novis ProBlender. Add the garlic, basil and half of the olive oil and blend finely. Then add the Parmesan and the other half of the oil and blend. Season with fleur de sel and pepper.
Halve and wash the lettuce, pat dry well. Heat the frying pan with a little oil. Add the lettuce and fry until hot. Deglaze with the vinegar until it has evaporated. Remove the lettuce, season with fleur de sel and spread with the pesto. Coarsely chop the hazelnuts and place on top of the lettuce. Grate the Parmesan, Belper bulb and lemon zest on top.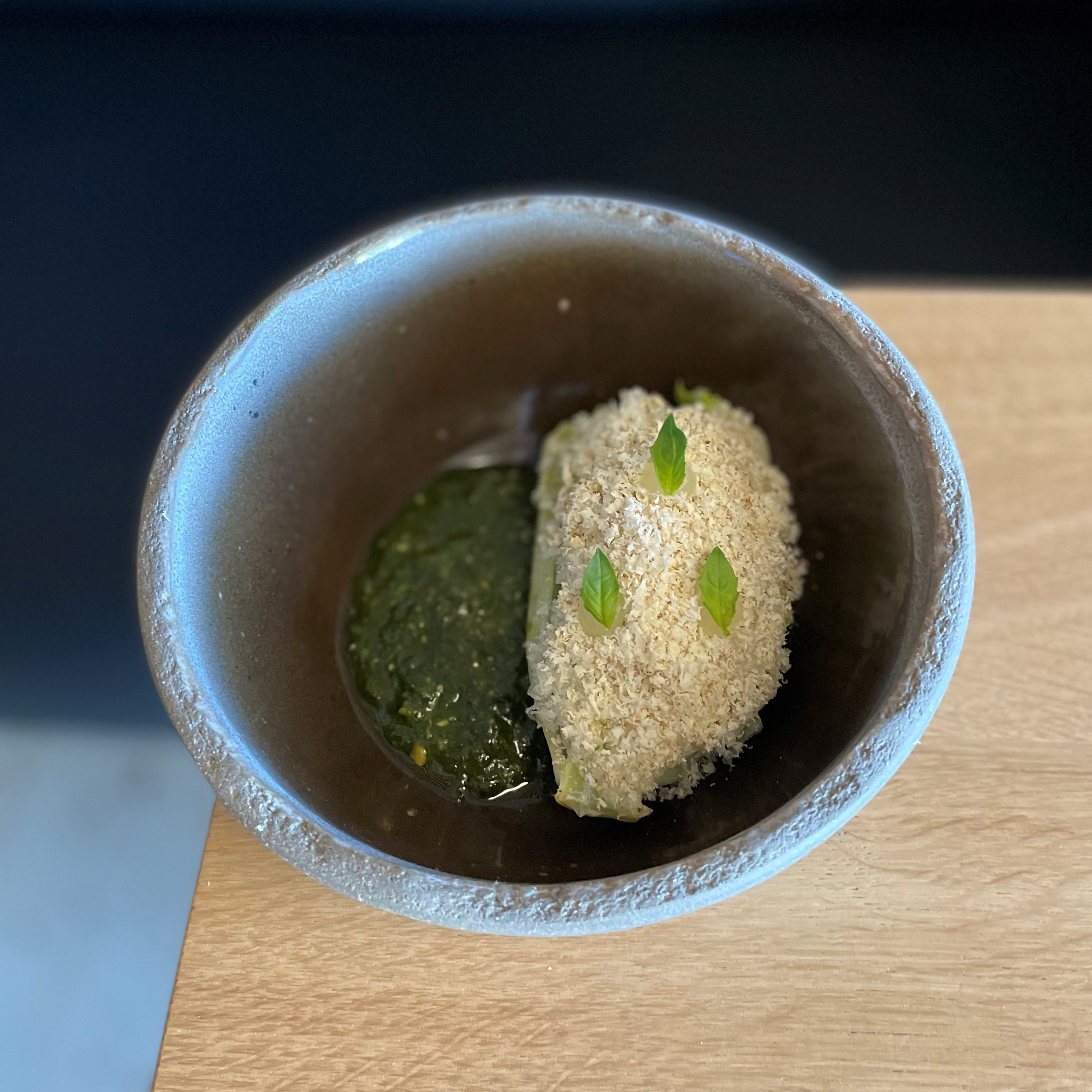 Novis
ProBlender 880L
The versatile high-performance blender
Best in class with 120'000 cuts per minute
5 programmes, LCD-Display, 6 speeds
SmartAdapt-System for different containers
Wireless Safety System
Robust and 10 years motor warranty
€499.00 instead of €699.00
Novis
Compact container
Extend the functionality of your ProBlender
Works on all Novis ProBlender products
With SmartAdapt system for automatic recognition and safety system
Ideal for nut butters, baby food, dips