How about superfoods for breakfast?
Bowls are in vogue. At breakfast, especially the superfood chia fits perfectly into the bowl.
Discover the recipe for hearty blueberry chia bowl by Tanja Grandits.
"For this bowl, frozen blueberries are also suitable. The powerful mixer Novis ProBlender transforms them into a creamy consistency in no time. Together with the coconut milk and the various kernels such as chia and flax seeds, sunflower and pumpkin seeds , which all swell wonderfully, this makes a very creamy yet light breakfast - ideal even for early eaters who don't like to eat big portions in the morning. The whole bowl can also be prepared the evening before, "says Tanja Grandits.
"THE POWERFUL NOVIS PROBLENDER TRANSFORMS EVEN FROZEN INGREDIENTS INTO A CREAMY CONSISTENCY IN NO TIME."
Tanja Grandits, top chef and cookbook author
Blueberry & chia bowl with seeds by Tanja Grandits
Ingredients:
250 g blueberries
250g coconut milk
½ an unwaxed lemon, including juice and zest
1 tbsp. agave nectar or honey
1 pinch cardamom
30g sunflower seeds
60g chia seeds
30g flaxseeds
30g pumpkin seeds
Preparation:
Mix together the blueberries, coconut milk, lemon zest and juice, agave nectar/honey and cardamom in the Novis Compact Container and mix together using the high-performance Novis ProBlender. Add the remaining ingredients and leave to soak for 20 minutes before serving.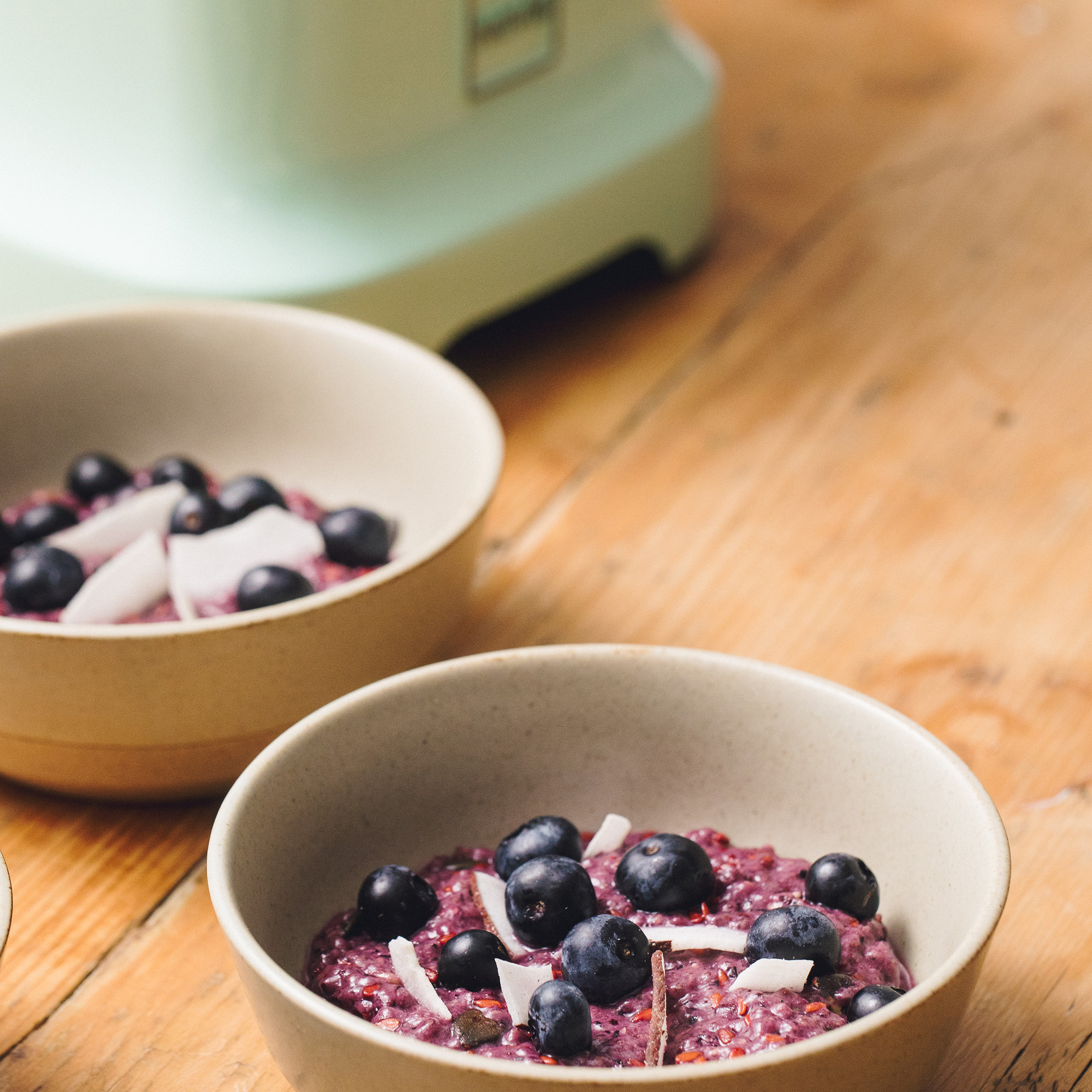 Novis
ProBlender 880L
The versatile high-performance blender
Best in class with 120'000 cuts per minute
5 programmes, LCD-Display, 6 speeds
SmartAdapt-System for different containers
Wireless Safety System
Robust and 10 years motor warranty
Novis
Compact container
Extend the functionality of your ProBlender
Works on all Novis ProBlender products
With SmartAdapt system for automatic recognition and safety system
Ideal for nut butters, baby food, dips