Wild garlic butter like in a gourmet restaurant
Spring is here and with it the first long warm evenings. And they are perfect for barbecuing. If you want to spoil your guests at the next barbecue with a culinary delicacy - which is not only quick and easy to prepare, but also goes well with many, many dishes - you should prepare the wild garlic butter from junior sous chef Ryan Oppliger from the Restaurant Magdalena in Rickenbach.
Ryan Oppliger is a native of Tuggen in Schwyz and a true cooking wonder. Not only did he complete a double apprenticeship as a chef and pastry chef/confectioner, he also managed to join the kitchen team of the Restaurant Magdalena in Rickenbach at a young age. With 2 Michelin stars and 17 Gault Millau points, it is known far beyond the cantonal borders. He impressively proved that he has what it takes to be a top chef in 2022 when he won the "la cuisine des jeunes" cooking competition organised by Schweizerfleisch.
When asked what the key to a perfect dish is, Ryan Oppliger answers without mincing words: "the side sauces". In his opinion, this also includes wild garlic butter, which the junior sous chef prefers to prepare with the Novis ProBlender. Why? "Because the Novis ProBlender is no ordinary blender, but very powerful, which allows me to blend ingredients quickly to an extremely creamy texture," says Ryan Oppliger. And adds: "The different container sizes are also a big plus, allowing me to reproduce the same recipe in different quantities and still achieve the same creamy result". For the cooking talent, the Novis ProBlender is the ideal stand mixer for creamy, homogeneous results.
For us - and all friends of the finest barbecue side dishes - Ryan Oppliger reveals his wild garlic butter recipe, which goes perfectly with all kinds of barbecued food such as fish, meat and vegetables, but also with various potato preparations as well as on fresh bread. Finally, two tips: Freshly prepared wild garlic butter will keep for up to a week in the fridge. In the freezer, however, it can last up to half a year. We wish you wonderful and delicious barbecue evenings!
Ryan's wild garlic butter recipe for the Novis ProBlender
Ingredients
300g butter, room temperature
1 bunch wild garlic
5g salt
70g natural yoghurt
Preparation
Cream the butter in the KitchenAid machine. Finely blend the wild garlic with the yoghurt in the Novis ProBlender until creamy. Then gradually add the butter to the yoghurt mixture and mix well. Finally, season to taste with salt.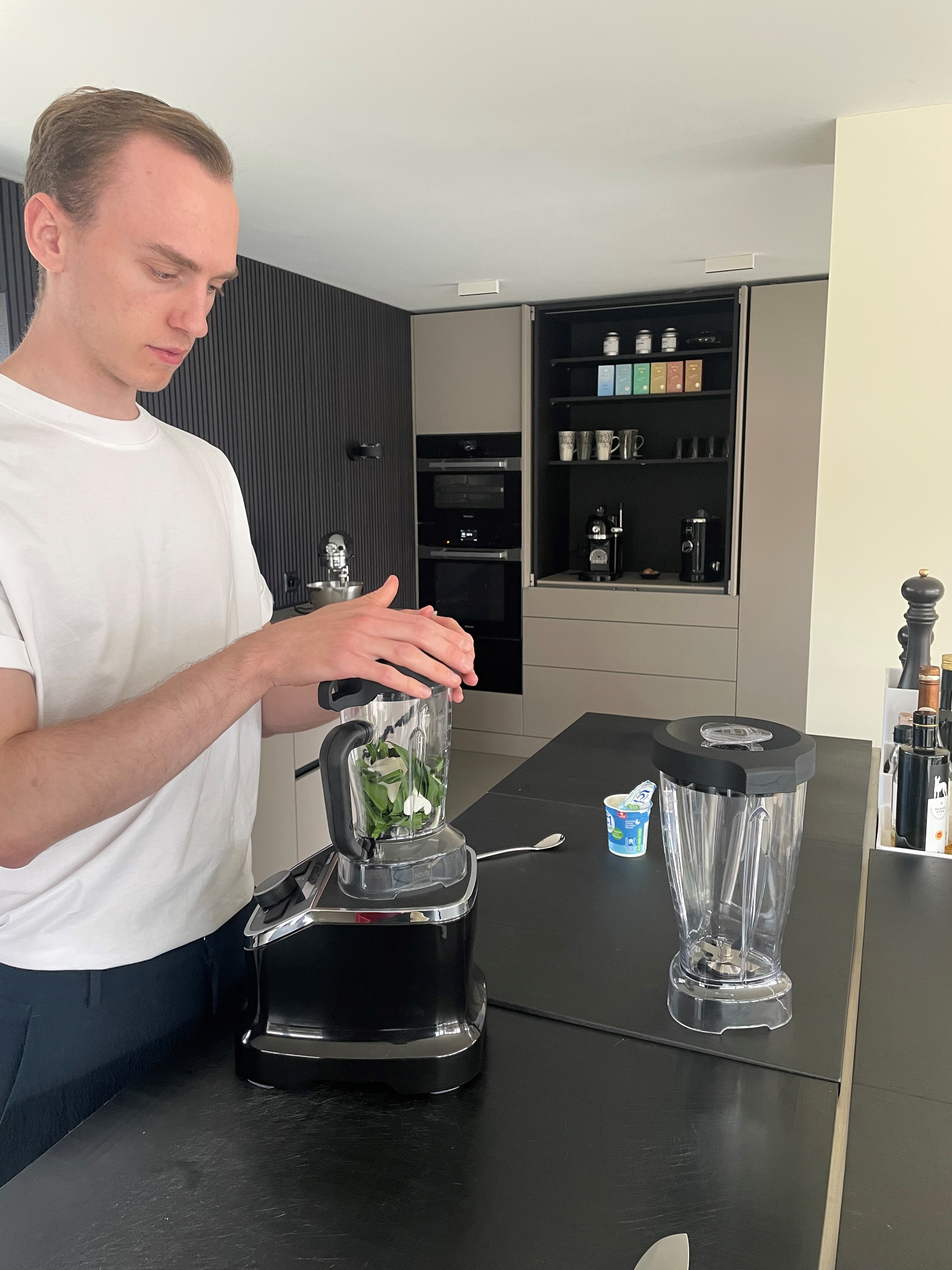 Novis
ProBlender 880L
The versatile high-performance blender
Best in class with 120'000 cuts per minute
5 programmes, LCD-Display, 6 speeds
SmartAdapt-System for different containers
Wireless Safety System
Robust and 10 years motor warranty
Novis
ProBlender 650L
The versatile high-performance blender
Best in class with 120'000 cuts per minute
6 speeds
SmartAdapt-System for different containers
Wireless Safety System
Robust and 10 years motor warranty
CHF 389.00 instead of CHF 549.00