A fresh and healthy summer treat
Beata Nicholson is a successful Lituanian TV chef, author and mother. Cooking for family and friends is pure joy for Beata, who turned her passion for food prepared with love and kindness into a career. "Taste Lithuania" is her first book in English. This book is about the essence of Lithuanian home cooking, it is an invitation to discover Lithuania through its enduring culinary traditions.
For Beata, a good blender is a must and a daily tool in the kitchen. She agreed to test the Novis ProBlender and was directly delighted. "It is a very serious and qualitative kitchen appliance", she says. She liked that there are several clearly illustrated modes - intuitive to use and easy to select intensity. However, the biggest advantage of the Novis ProBlender for her is its strength: "it actually blends nuts, vegetables, and frozen fruits and ice".
"Thanks to the Novis ProBlender, you will make such soft ice cream from frozen bananas - they will be a natural sweetener and will give a pleasant texture. Novis ProBlender will mix such ice cream in just a few minutes."
Beata Nicholson, Lituanian cookbook author
Beata's Recipe: Soft banana ice cream with coconuts
Ingredients:
4 frozen bananas

a handful of coconut chips

2 tablespoons CHIA seeds

50 ml of coconut cream

1-2 dates

a pinch of salt

a pinch of cinnamon
Method:
Place all ingredients in the Novis ProBlender. If you have frozen uncut bananas, start whipping in pulsation mode so that the ProBlender does not overheat and the frozen fruit starts to turn into a puree. Then turn on the ice cream function and blend until the mass reaches the desired ice cream consistency.
If you want it sweeter, add a few dates, a few tablespoons of CHIA seeds to make the mass more viscous.
If you want a stronger the taste add a handful of coconut chips and a pinch of cinnamon.
Top with berries and salted roasted peanuts. Enjoy as dessert or for breakfast – a healthy, nutritious ice cream!
All rights to Beata Nicholson:
https://www.beatosvirtuve.lt/receptai/minksti-bananiniai-ledai-su-kokosais/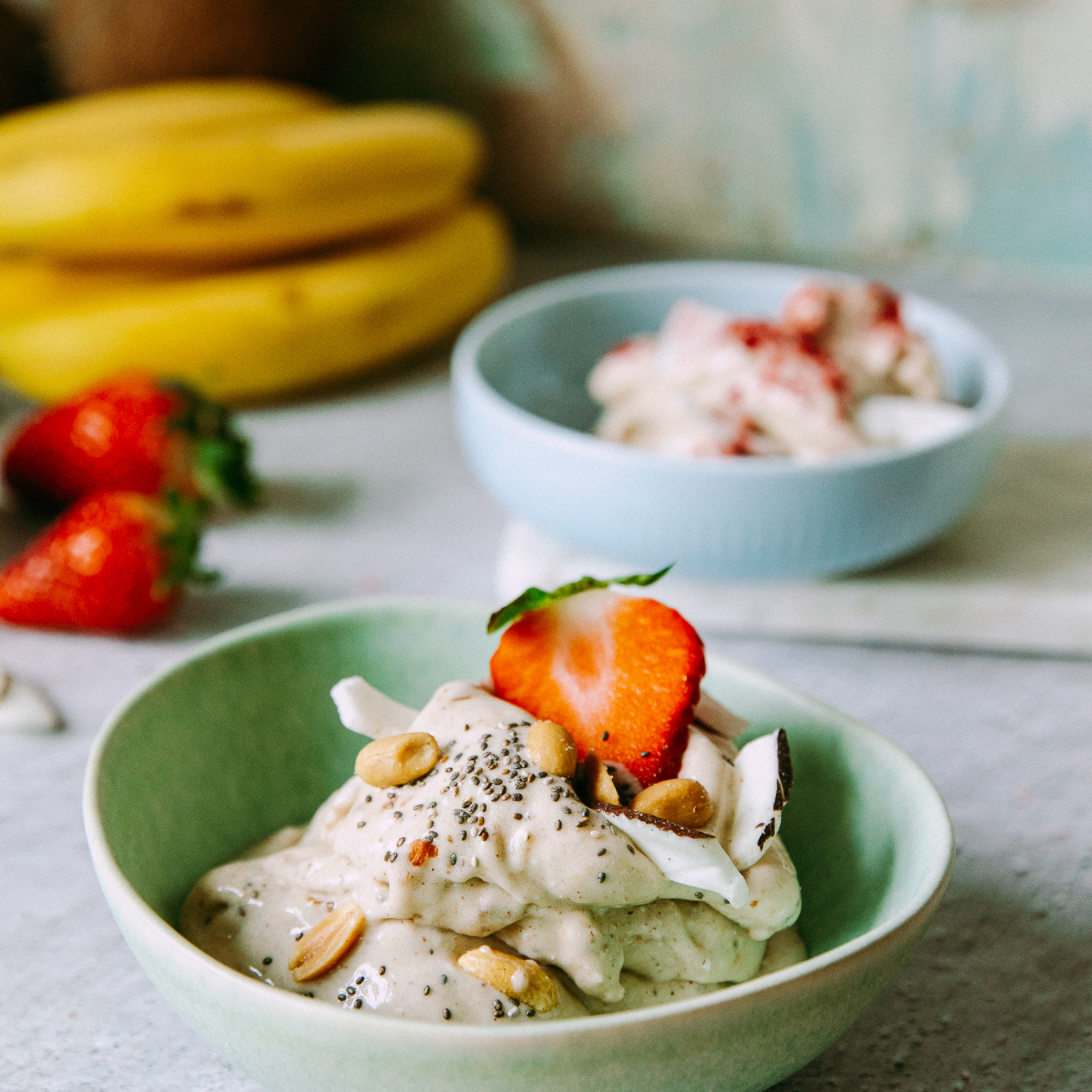 Novis
Compact container
Extend the functionality of your ProBlender
Works on all Novis ProBlender products
With SmartAdapt system for automatic recognition and safety system
Ideal for nut butters, baby food, dips